Law enforcers smashed camera and glasses of reporter for Radio Liberty near parliament
On December 17, the National Guard and police officers broke the camera and glasses of the journalist for Radio Svoboda Serhiy Nuzhnenko, as Radio Svoboda reported.
The incident occurred, as the journalist was covering clashes between the law enforcement officers and protesters under the Verkhovna Rada due to new bill on farmland market to be voted in the parliament. On December 19, the Verkhovna Rada plans to consider the bill on introduction of the land market in the second reading.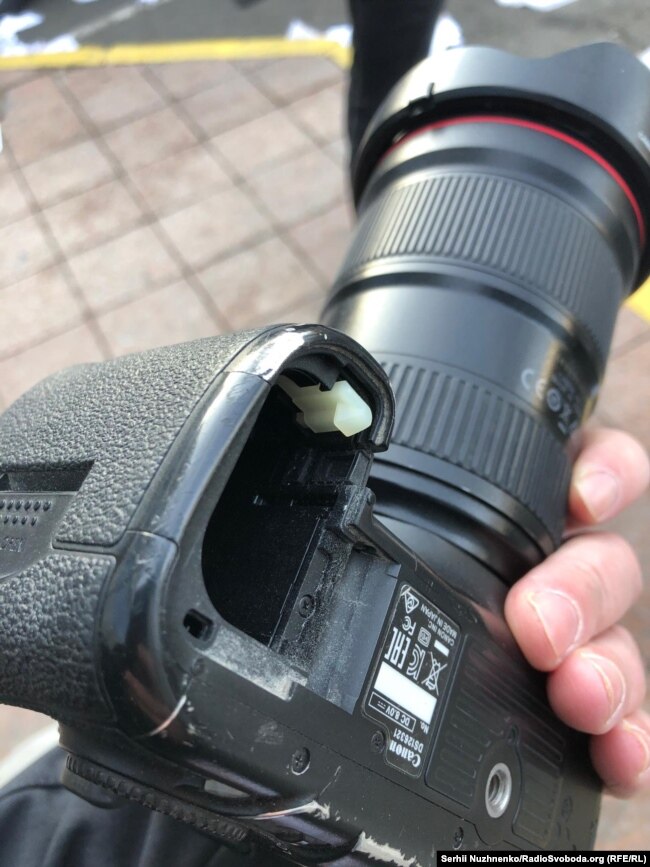 Today,IMI reported, other journalists, from Hromadske Victoriya Roshchyna and cameraman Oleksiy Nikulin, got injured amid these clashes. In particular, the journalists suffered from tear gas, which was used by the riot police and protesters. Also someone knocked out the phone from the hands of the journalist, as she was filming the clashes. The protesters threw the tent bars at the journalists.
IMI reported as well, on March 2018, the police officer used gas spray against Radio Liberty correspondent Serhiy Nuzhnenko, near the building of Verkhovna Rada. According to the journalist, he was taking footage and photographed the events that were taking place in the morning near the building of the Parliament. He has journalist ID which he was holding unfolded in front of himself. The camera was directed in the direction of tents of activists. At one point, a police officer approached the correspondent from behind and sprayed the gas spray into his face.
Liked the article?
Help us be even more cool!