Journalist of Kyiv Post and her colleagues receive threats from Luhansk militia, blames data leak
On September 23, the journalist for "Kyiv Post" daily Anna Myronyuk spoke about eventual leak of the journalists contact data that the Joint Forces Operation HQ had at their disposal. Anna Myronyuk told to receive sms from militia fighters from occupied territories in Luhansk region with threats she was facing for a term from 10 years to life imprisonment for "genocide and prohibited methods of waging war", as "Detector Media" reported citing her post in her Facebook page.
"I have grounds for saying another leak of contact data of the journalists who filed applications to be accredited to work in combat zone or JFO has occurred. Three persons in "Kyiv Post" editorial office received such messages after around three weeks ago they had sent its documents to email box of the JFO press center. According to information I have, my colleagues from other media who had not send application for accreditation during that period, did not receive such messages. I will be happy to make a mistake, but for now it looks like this is not more safe to be journalist in Ukraine".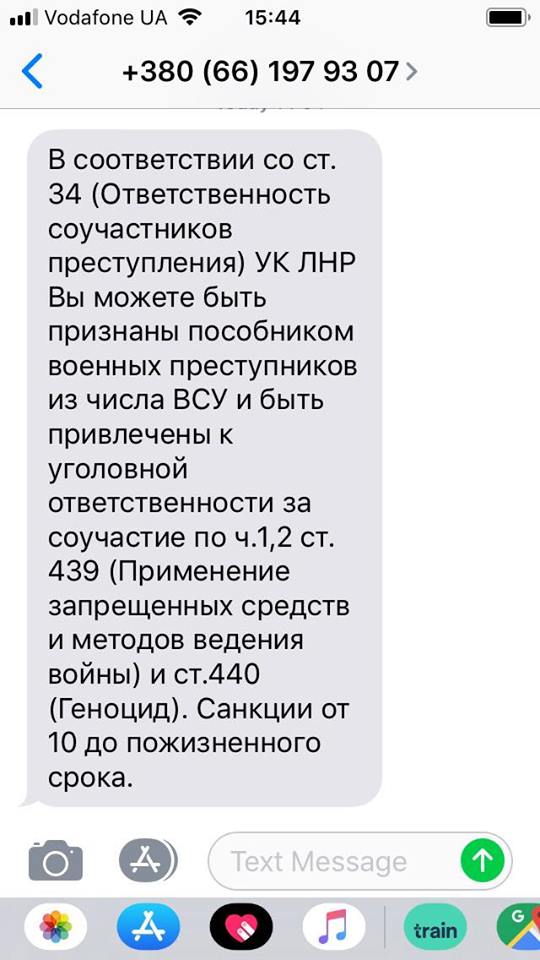 Myronyuk told that for the last time, she was in combat zone in December 2017. She added she had sent a letter to the Security Service of Ukraine (SBU): "Nope, not because we are scared to be there. But because I would like that when I send a letter for accreditation, I'll get only accreditation and not a bonus in form of a text-message with threats from militia men".
As Olena Hitlyanska, press officer of SBU told to "Detektor Media" the letter from the journalist regarding threats from militia fighters is being considered.
An military interlocutor of "Detektor Media" explained that the militia in the occupied territories of Donetsk and Luhansk regions have in their possession all tools to read out the data. Namely,with support of special workstations that scan the telephones, the militant fighters can take off the contact data, e-mail addresses etc. Besides it, they seized the mobile phone towers in the occupied territory of Donbas, this communication outfit can fix what mobile phones are approaching the demarcation line. He notified, the journalists who come to combat zone have to take work mobiles, not personal ones.
Speaking to "Detektor Media", a contact in the JFO denied leak of information: "If the leak occurred at press center of the JFO, there would be much more names".
IMI reported, on May 2016 the separatist website from the Luhansk Popular Republick (LPR) "occupation.net" made public lists of the Ukrainian and foreign journalists as of 10.10.2014 who were covering developments in Donbas region and in the zone of anti-terrorist operation (ATO). The list had dozens of names of the journalists from TV broadcasters "Inter", "1+1", STB, ICTV,Hromadske TV, Espresso TV, Kanal 5th, the 24th Channel, "Ukraina", and foreign media: Al Jazeera, AFP, VICE News, BBC, FoxNews and many others. The list had phone contacts of each journalist cited in.
Photo credits: tecnologia-informatica.com
Liked the article?
Help us be even more cool!